Investigación
Factores de información medioambiental de las empresas mineras peruanas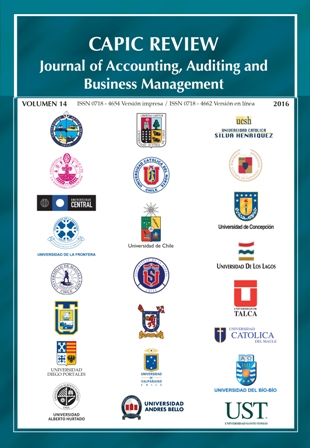 Publicado 2016-12-10
Palabras clave
Accountability

,

Información Medioambiental

,

Minería Peruana

,

Responsabilidad Social Corporativa
Cómo citar
Hernández Pajares, J. ., Venegas Morales, C. ., & Alvarado Pintado, L. . (2016). Factores de información medioambiental de las empresas mineras peruanas. CAPIC REVIEW, 14, 29–38. https://doi.org/10.35928/cr.vol14.2016.30
Resumen
Con el fin de satisfacer las expectativas de sus grupos de interés, las empresas mineras peruanas vienen comprometiendo sus esfuerzos sobre su desempeño de sostenibilidad y su reporte con el fin de mejorar su impacto social y ambiental así como su transparencia. El objetivo de la presente investigación es analizar el nivel de cumplimiento de la información medioambiental publicada por estas empresas en sus memorias anuales y de sostenibilidad, y determinar si factores como rentabilidad, tamaño y naturaleza de los accionistas influyen en el cumplimiento de dicha información de acuerdo a los estándares de la Global Reporting Initiative (GRI). Los resultados muestran que el tamaño de las empresas y la naturaleza de sus accionistas resultan factores determinantes de la información medioambiental.
Descargas
Los datos de descargas todavía no están disponibles.
Citas
1. Archel, D. y Lizarraga, P. (2001). Algunos determinantes de la información medioambiental divulgada por las empresas españolas cotizadas. Revista de Contabilidad, 4(7), 129-153.

2. Bebbington, A. y Bury, J. (2009). Institutional challenges for mining and sustainability in Peru. Proceedings of the National Academy of Sciences, 106(41), 17296-17301.

3. Da Silva, S. M., y Aibar, B. (2011). Factores determinantes del grado de información medioambiental divulgada en las grandes empresas que operan en Portugal: un análisis univariante. Base, 8(1).

4. Deegan, C. y Gordon, B. (1996). A study of the environmental disclosure practices of Australian corporations. Accounting and Business Research, 26(3), 187-199.

5. Fonseca, A., McAllister, M. y Fitzpatrick, P. (2014). Sustainability reporting among mining corporations: A constructive critique of the GRI approach. Journal of Cleaner Production, 70-83.

6. García-Ayuso, M. y Larrinaga, C. (2003). Environmental disclosure in Spain: Corporate characteristics and media exposure. Spanish Journal of Finance and Accounting, 115, pp. 184-214.

7. Gifford, B. y Kestler, A. (2008). Toward a theory of local legitimacy by MNEs in developing nations: Newmont mining and health sustainable development in Peru. Journal of International Management, 14, 340-352.

8. Gifford, B., Kestler, A. y Anand, S. (2010). Building local legitimacy into corporate social responsibility: Gold mining firms in developing nations. Journal of World Business, 45(3), 304-311.

9. Gray, R., Kouhy, R. y Lavers, S. (1995). Corporate social and environmental reporting: A review of the literature and a longitudinal study of UK disclosure. Accounting, Auditing and Accountability Journal, 8(2), 47-77.

10. Gray, R., Owen, D. y Adams, C. (1996). Accounting and accountability: Changes y challenges in corporate social and environmental reporting. London: Prentice Hall.

11. GRI (Global Reporting Initiative) (2006). Sustainability reporting guidelines. Amsterdam.

12. GRI (Global Reporting Initiative) (2010). Sustainability reporting guidelines, mining, and metals sector supplement. Amsterdam.

13. Guenther, E., Hoppe, H. y Poser, C. (2006). Environmental corporate social responsibility of firms in the mining and oil and gas industries.

14. Greener Management International, Vol. 53, 7-25. Helwege, A. (2014). Challenges with resolving mining conflicts in Latin America. The Extractive Industries and Society, 2(1), 73-84.

15. Hilson, G. y Basu, A. (2003). Devising indicators of sustainable development for the mining and minerals industry: An analysis of critical background issues. The International Journal of Sustainable Development and World Ecology, 10(4), 319-332.

16. Jaskoski (2014). Environmental licensing and conflict in Peru's mining sector: A path-dependent analysis. World Development, (64), 873-883.

17. Jenkins, H. (2004). Corporate social responsibility and the mining industry: Conflicts and constructs. Corporate Social Responsibility and Environmental Management, 11(1), 23-34.

18. Jenkins, H. y Yakovleva, N. (2006). Corporate social responsibility in the mining industry: Exploring trends in social and environmental disclosure. Journal of Cleaner Production, 14(3-4), 271-284.

19. Llena, F., Moneva, J. M. y Hernández, B. (2007). Environmental disclosures and compulsory accounting standards: The case of Spanish anual reports. Business Strategy and the Environment, 16(1), 16-53.

20. Moneva, J. M. y Llena, F. (1996). Análisis de la información sobre responsabilidad social en las empresas industriales que cotizan en bolsa. Revista Española de Financiación y Contabilidad, 25(87), 361-401.

21. Moneva, J. M., Acero, I. y Llena, F. (2007). Evaluación de la información de sostenibilidad en las cajas de ahorro españolas. Cuadernos Aragoneses de Economía, 17(1), 99-125.

22. Muradian, R., Martínez-Alier, J. y Correa, H. (2003). International capital vs. local population: The environmental conflict of the Tambogrande mining project. Society and Natural Resources, 16(9), 775-792.

23. Patten, D. M. (1992). Intra-industry environmental disclosures in response to the Alaskan oil spill: A note on Legitimacy Theory. Accounting, Organizations and Society, Vol. XVII, N° 5, 471-475.

24. Patten, D. M. (2002). The relation between environmental performance and environmental disclosure: A research note. Accounting, Organizations and Society, 27(8), 763-773.

25. Pérez, F. y Sánchez, L. (2009). Assessing the evolution of sustainability reporting in the mining sector. Environmental Management, 43, 949-961.

26. Pino, R., Aquije, E., Cárdenas, A. y Moreno, P. (2010). La actividad minera y su relación con las comunidades: un estudio exploratorio en el Perú. CENTRUM, PUCP. Lima.

27. Prno, J. (2013). An analysis of factors leading to the establishment of a social licence to opérate in the mining industry. Resources Policy, 38(4), 577-590.

28. Roberts, R. (1992). Determinants of corporate social responsibility disclosure: An application of stakeholder theory. Accounting, Organizations and Society, 17(6), 595-612.

29. Slack, K. (2012). Mission impossible?: Adopting a CSR-based business model for extractive industries in developing countries. Resources Policy, 37(2), 179-184.

30. Sweeney, L. y Coughlan, J. (2008). Do different industries report corporate social responsibility differently? An investigation through the lens of stakeholder theory. Journal of Marketing Communications, 14(2), 113-124.